Iron Fitting 
Last year was our best year to date in iron sales and the clear winner was Mizuno. Mizuno continues to build upon their successful JPX line (2014 JPX – EZ and EZ Forged) and clearly are building their arsenal to better "fit" the mid to high handicapper. There are also some exciting new lines from various other manufacturers, and as always we will fit you in the optimum set regardless of who makes them.
The irons detailed below are only some highlights of what's being offered this year while we offer a wide selection of irons (and woods,irons,fairways,putters, wedges, etc.) based on the individual golfers needs.
MIZUNO
Mizuno has continued to expand upon its middle to high high handicap series by offering several new models that provide even more benefits then it's hugely successful JPX 825 Line. From the thin forged face of the EZ forged to the ultra-forgiving and incredibly long JPX EZ Mizuno now has something increadible to offer for everyone. So for all you golfers out their hitting the typical gimicky sticks bought off a shelf at the big box set up an appointment to try the latest and most technologically advanced line of irons in the business. Believe me when I say Mizuno isn't just for the low handicap players anymore- But…..
For all you low handicapers out there Mizuno has introduced an exciting expansion to their already impressive player line all of which incorporate their world renowned grain flow forgings.
Matching the right shaft to your swing is absolutely critical for just about every aspect of your shot – distance, control, ball flight, trajectory and feel. Because this used to mean a lot of trial-and-error and educated guesswork, many golfers simply selected a popular shaft that might be a mis-fit for their swing.
In just a few swings, Mizuno's Shaft Optimizer ends the guesswork by measuring five critical aspects of your swing to determine your unique Swing DNA™. Your information is entered into Mizuno's patented Shaft Optimizer software, which then recommends a shaft with performance characteristics perfectly matched to your individual swing.
Club Head Speed: How fast the club head and shaft are moving during your swing.
Tempo: How quickly you transition from your backswing to your downswing.
Shaft Toe Down: Measures how far the shaft bends in a downward direction during your downswing.
Shaft Kick Angle: Measures how far the shaft bends forward during your downswing.
Release Factor: How and when the club head and shaft are released during the downswing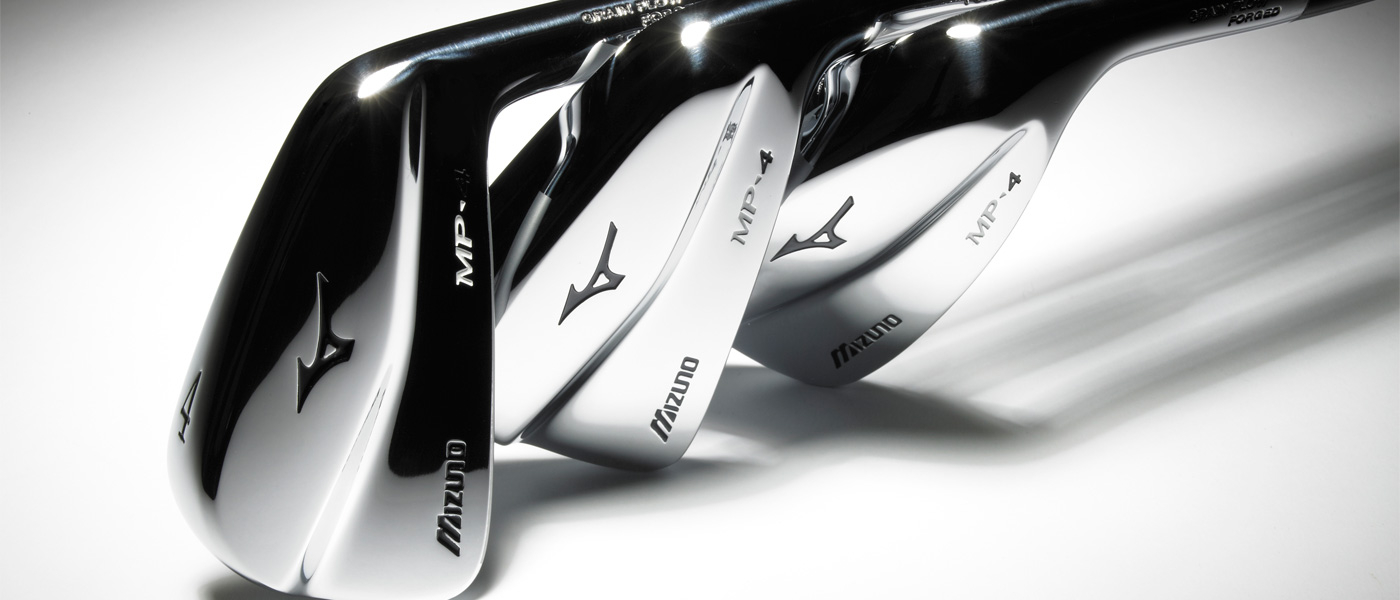 PING
I like both the look and design of the new I-25 irons. They have nice clean lines with no "boxey" look. The I-25's are also a nice progressive offset series with more forgiveness in the longer irons. I also like the muscle back design for a more penetrating ball flight.
Callaway Apex Forged & Forged Pro
So when Callaway sold off the Hogan line a few years ago they apparently kept the rights to several brands and copyright names which include the Apex Line. True to Callaway's "Retro" theme this year (i.e. Big Bertha Returns), Callaway is introducing the Apex Pro as their high-end forged line. I'm excited as these are a great clean looking forging packed with forgiveness. Callaway will also be offering a great line of high-end "real" O.E.M shaft options. The Apex is also a high quality forging but designed with more forgiveness with added distance. We will have ALL of Callaway's new irons (including the X2Hot and X2Hot Pro) in our extensive fitting center so contact us for a private fitting.
Note: just checked status and the final demo components shipped to us last Friday so we will have everything in hand and ready to fit beginning later this week (1/10/14)!
Exotics "Extreme Forged CB
True to our word, when it comes to irons we specialize in quality forgings. Each year we nail down our offerings that provide the best in terms of quality, playability, workability, and forgiveness. Each year we like to offer some quality clubs that you don't typically see very often. In years past we have offered quality forgings from the likes of Miura, KZG, Fourteen, and Scratch among others. This year we will be offering the exceptionally forged irons from Exotics. These are great clubs at an even better price.
The Exotics CB Xtreme forged irons are designed for the most discerning player to deliver the pure feel and workability of a blade with the forgiveness of a cavity back iron. The blade's heel and toe perimeter-weighted cavity lowers the center of gravity and creates a large sweet spot for a soft, crisp feel from more points on the face.
Forged from 1025-carbon steel, the iron's soft forms are highlighted by dramatic lines and a classic shape. For maximum spin control and a pure feel, the Xtreme Forged's face is entirely CNC milled to supply the largest grooves and face-roughness allowed by the USGA. The milled face and head not only deliver unprecedented spin control, they deliver a strikingly superior feel.
For improved playabilty, the Exotics CB irons have a tour-beveled sole that promotes a cleaner ball striking by reducing turf interaction. The less turf interaction, the greater the ability players have to work the ball. Add the CB's smaller forged face and near-zero offset and you've got a set of irons that will work just as hard as you do to improve your game.
 Adams Golf XTD forged
So I'll be honest, I was a little concerned about the direction Adams was headed now that they are owned by Taylor Made. I have been reassured that now even more money is being put towards R+D and marketing to get the quality of Adams products out there to the general public. Adams recently signed Ells which is a testament to their new marketing strategy. Adams has taken the success of their slot technology to the irons with the forged XTD with it's unique floating face with incredible forgiveness but clean sleek design. Adams is still the clear winner in hybrid technology and were by far our best seller in hybrid and/or hybrid iron combo sets. You will see more and more companies now offering hybrid blended iron sets but to be honest they have all been chasing Adams in this category for years.
Unlike traditional forged irons, XTD is a multi-piece forging that boasts the category's first-ever Cut-Thru Slot technology. A floating face and hollow design delivers a consistently faster face, adding forgiveness throughout. Tungsten weights in the sole optimize CG location. Better players who prefer a thin topline design and the feel of a forged iron, will appreciate the easy to hit playability of the XTD Forged Irons.
The full eight-piece set includes a 3- and 4- DHy, currently the top hybridmodel on the PGA Tour. It gives the extra distance and forgiveness of a hybrid with the shot-shaping control of a long iron. A unique bulge-and-roll face technology improves shot dispersion.
The most advanced forging ever! Forging is 80+ years old and hasn't really changed – until now!
Hollow Forged Design allows for the irons to match the face hotness of the hybrids.
Only Cut-Thru slot in golf and it's in a forging, creating a consistently faster face.
Includes two DHy hybrids, currently the #1 model on the PGA Tour.
 Bridgestone J40 Combo Set
So Bridgestone still continues with their 2 year product cycle so don't expect anything new in terms of irons from them until late 2014 (they are finally offering a blended/combo set now of the cavity/pocket-back irons though). I do have it on good authority that Bridgestone's parent company (Tour Concept) is planning on making a move into the U.S. market (Finally!). For those of you who don't know, Tour Concept is considered  the high end golf manufacturer in Japan with an extensive product line. Believe me, I met with the Tour Concept rep last year in Hawaii and their product catalog was over 1/2″ thick. Bridgestone Irons offer a quality forging at a great price but in Japan they are considered an "economy" priced line (whereas Tour Concept forgings typically run at $2,500+). I will keep you posted on this development which would be a game changer over here as Tour Concept is sitting on a war chest in terms of both money & product.